Falls of Hills Creek © Kent Mason
Sen. Rockefeller's Shout Out To Wild Places
June was Great Outdoors Month, and West Virginia's senior senator Jay Rockefeller took the occasion to laud our amazing recreation resources in an editorial published statewide. He says, "It's worth noting that our outdoors is more than just a source of pride and recreation for us. West Virginia's gorgeous mountains, deep valleys, and crisp rivers and streams are a critical part of our state's economic engine . . . . We need to continue to nurture this growth and diversify our economy through the use of one of our most precious resources: our natural environment."

Right on, Jay! That's what the proposal for the Birthplace of Rivers is all about.
 
Faces of the Birthplace of Rivers:
Water Stone Outdoors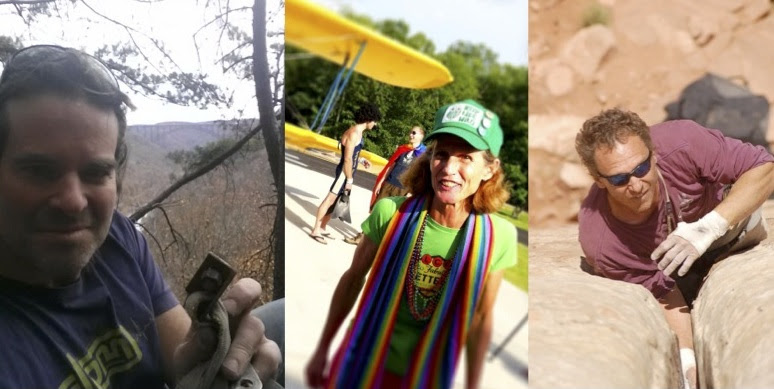 BOR supporters Kenny Parker and Maura & Gene Kistler of 
Water Stone Outdoors
.
T
his year Water Stone Outdoors in Fayetteville celebrates 20 years of providing gear and friendly advice to rock climbers and outdoor enthusiasts. Owners Maura & Gene Kistler and Kenny Parker show their enthusiastic support for the Birthplace of Rivers National Monument in writing letters to the editor and to our Congressional delegation about how a monument could be great for business in West Virginia as well as a wonderful way to preserve our culture and protect our headwaters. "The monument's core values—West Virginia's great outdoors and our rich cultural heritage—encourage a creative, vibrant economy throughout the state," they wrote.

Thanks Water Stone Outdoors!
Biking in the Monument
Support to create the Birthplace of Rivers National Monument has been diverse from the start. Supporters include the International Mountain Bicycling Association, who champion keeping things just the way they are in this special corner of the Monongahela National Forest. Thanks for your support IMBA! Here's a special meme to celebrate what you do. Like it on Facebook when you go like our page!
 
Do you Like Birthplace of Rivers?


Make sure you "like" our Facebook page! Share your photos of Birthplace of Rivers. Use it to tell you story of why a national monument is important to you. Check out what your friends are saying. Share our posts. Let's go viral!