Your Help Needed To Reform Water Protections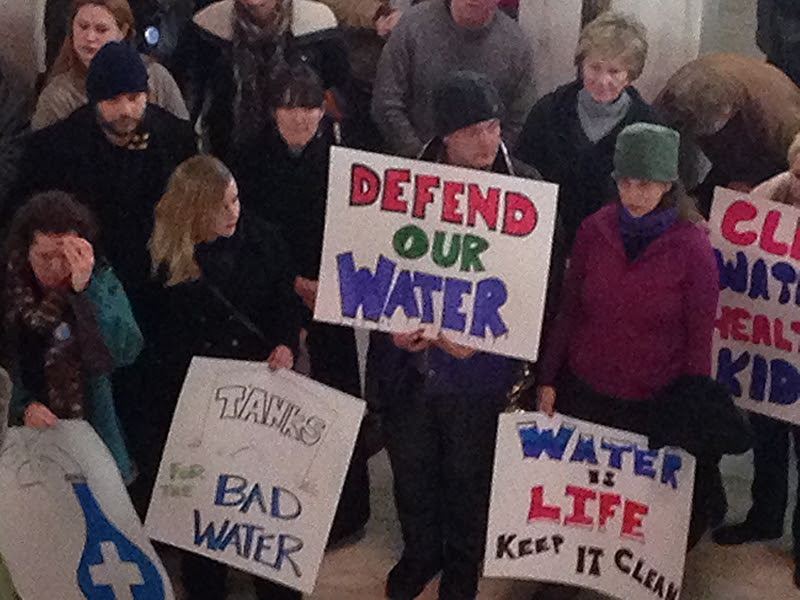 Hundreds gather at the West Virginia Capitol in support of clean water
Now is the time to tell your Delegates and Senators that you support REAL safeguards that protect our rivers, streams, and public water supplies. 
Make a Difference
Legislature Considers WVRC Recommendations
WVRC's groundbreaking report, "
The Freedom Industries Spill: Lessons Learned and Needed Reforms
," has been presented to the House Judiciary Committee and the Joint Legislative Oversight Commission on Water Resources. It is now part of the reforms being considered by the West Virginia Legislature.
Co-author of the report and President of Downstream Strategies Evan Hansen testifies before the House Judiciary Committee
WVRC and Downstream Strategies co-authored the report to recommend specific ways to close information gaps and strengthen policy remedies as they relate to three the Clean Water Act, the Safe Drinking Water Act, and the Emergency Planning and Community Right-to-Know Act.
If you think the recent water crisis was enough to change our government's attitude toward water, think again. On January 22nd a Senate committee 
moved forward
with the "Aluminum Rule" to WEAKEN safeguards even further by allowing more aluminum to be discharged from mining operations.
Call or email your
Delegate
s
and
Senator
s
today to voice your concerns – tell them to support WVRC's report recommendations and reject the proposal to weaken the aluminum water quality standard.